Puget Sound Orthopaedics (PSO) offers X-Ray and MRI imaging. All three of our clinics in Lakewood, Tacoma and Gig Harbor utilize digital X-Ray equipment.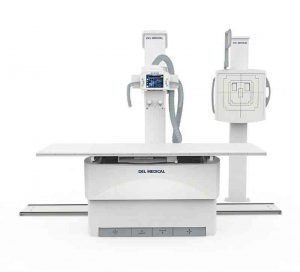 The Del X-Ray Machine at our Lakewood Clinic
X-Ray is an imaging tool that uses ionizing radiation to create "shadows" of your bones and organs. The appearance of these shadows depends on the density of the tissue, so bone appears bright white and muscles and tendons appear very dark. These images are 2-dimensional, so usually 2 or 3 pictures are taken at different angles to help the doctor diagnose your condition. Your doctor will decide whether or not X-Rays are needed.
PSO utilizes digital X-Ray machines labeled under an umbrella known as Direct Radiography (DR). The plates that capture these X-Rays provide near-instantaneous results and are immediately reusable once the technologist accepts the image. Once the exam is complete it is sent via the clinic's network at the speed of an e-mail, and the images may be viewed by providers right away at their computer.
Digital X-Ray dramatically reduces radiation doses to patients, by almost half, thanks to improved sensitivity. The picture quality is detailed and more clear thanks to enhancement features within the computer console.
Expert X-Ray Technologists
PSO employs X-Ray technologists who have received professional education in radiology and who have also passed a national registry exam. These imaging specialists are knowledgeable about radiation safety and also understand the best and easiest ways to take quality X-Rays no matter the ability or illness of the patient.